Age 24 Months, 6:00am – 6:00pm Monday-Friday
Two-Year-Old Curriculum & Milestones
Two-year-olds are a very busy group both physically and verbally. Our two-year-old program raises the critical relationship building that occurs at this age supporting intellectual and social development.
Manipulative toys are used to promote eye-hand coordination. Teachers emphasize daily routines and social interaction through family-style meals and other small group activities. Picture books, songs, and skits are used to increase color, shape and number recognition.
Teachers organize dramatic play activities so children can dress up and role play. This develops new skills, such as problem-solving, self-care routines and conversation. Children are frequently read stories to build listening skills and are often asked to repeat the stories to develop memory recognition. To facilitate parental involvement, teachers provide daily sheets to document and share the children's experiences.
Asks "why" questions
Uses objects as tools
Attempts a task for a minute or two before asking for help
Physical & Health Development
Runs; can kick a ball
Washes hands with assistance
Demonstrates increasing balance
Social & Emotional Development
Calms down after being upset
Becomes aware of other's feelings
Engages in parallel play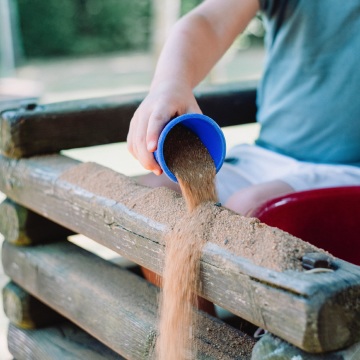 Development/Emergent Literacy
Repeats words
Takes turns in conversation
Attempts to sing songs
Begins to understand quantity (more)
Sorts by color, size or shape
Begins to understand sequence of daily routines
Learning About the World/Science
Describes what is seen
Begins to understand cause and effect
Classifies things that belong together
Our son started here about two years ago. Since then, we see good improvements on his communication and behavioral skills. Thank you for all support. We look forward to enrolling our 8 month baby in the next couple of years.
Tob Mill
2020-02-19T14:50:20-08:00
Our son started here about two years ago. Since then, we see good improvements on his communication and behavioral skills. Thank you for all support. We look forward to enrolling our 8 month baby in the next couple of years. Tob Mill
https://www.joylandpreschool.org/testimonials/tob-mill/
Very clean and educationally rich environment. Friendly staff. Only Movies are educational films.
Elipses Gold

2020-02-19T14:49:46-08:00
Very clean and educationally rich environment. Friendly staff. Only Movies are educational films. Elipses Gold
https://www.joylandpreschool.org/testimonials/elipses-gold/
Esta muy grande Esta muy. Bonito el. Lugar espero que le guste Alayna Morán.
Natividad Galdamez

2020-02-19T14:49:00-08:00
Esta muy grande Esta muy. Bonito el. Lugar espero que le guste Alayna Morán. Natividad Galdamez
https://www.joylandpreschool.org/testimonials/natividad-galdamez/
Very welcoming environment. My daughter's love it there.
Ranesha Williams

2020-02-22T00:48:41-08:00
Very welcoming environment. My daughter's love it there. Ranesha Williams
https://www.joylandpreschool.org/testimonials/ranesha-williams/
An amazing school where kids learn a lot. The teachers are very sweet and caring. You can not go wrong bringing your kids to this wonderful school.
Anthony Davis
2020-02-22T00:49:55-08:00
An amazing school where kids learn a lot. The teachers are very sweet and caring. You can not go wrong bringing your kids to this wonderful school. Anthony Davis
https://www.joylandpreschool.org/testimonials/anthony-davis/