Ages 6 Weeks to 18 Months, 6:00am – 6:00pm Monday-Friday
Why Choose Our Infant Program?
We're fully licensed and meet or exceed licensing, fire and health department regulations.
Very few centers can accommodate your youngest to your child in one place. Many start with us at babies and graduate in kindergarten.
Program Directors with Infant Experience
Our highly trained Program Directors have infant experience as well as preschool teaching experience, they continually monitor our infant room and are available to assist as needed.
Teachers covering lunch breaks are fully trained as infant teachers and communicate well with the infant team. There is always at least one permanent infant staff member in the infant room at all times.
Our teachers are also moms. They understand the love, compassion, and patience to take care of our youngest.
Unlike an in-home setting, we continually monitor and train our infant teachers so they continue to develop their skills and remain current with new and progressive infant research.
Easy Transition to To Waddler Group and Toddler Room
Since our program serves infants through kindergarten, when your baby shows readiness for the waddler group or toddler room, (hard to believe but it happens quickly), we can begin the transition in a way that suits your little one- he/she begins by spending time in the waddler group or toddler rooms for a couple hours a day, and you can meet with the teachers as the transition begins. The infant, waddler toddler unit work well as a team, and meeting the needs of a growing infant is our priority.
100% of our teachers are CPR and First Aid Certified
Rest assured, we go above and beyond licensing requirements to ensure your child's safety. 100% of our teachers are CPR and First Aid Certified not only in the Infant Program but also our entire preschool. We are all about quality- at every age.
Ever had a babysitter call out sick or a Family Day Care close because they were on vacation? We understand the hardship that's why we are only closed 11 days out of the year during federal holidays.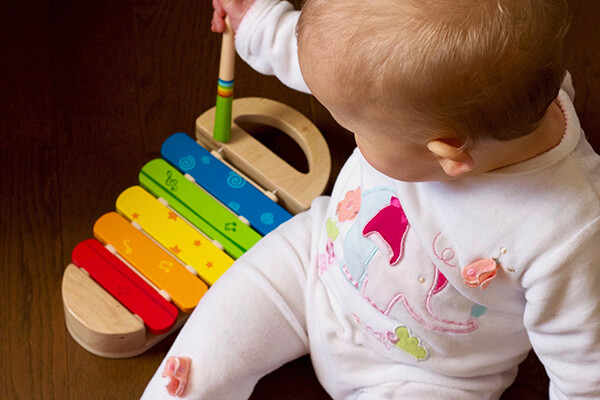 Little hands. Big learning experiences.
We know that real learning happens from the moment your child is born. In order to give each infant the chance they deserve, we provide a flexible daily schedule based on each child's needs. With a safe and nurturing environment, your little ones can freely explore and learn about their environment and themselves while learning beginning language and literacy, gross motor skills, and social-emotional skills. We believe in intentional teaching, where all the activities a baby experiences in their waking hours are used to develop building blocks of learning.
Our infant caretakers are friendly, warm and nurturing, and they tailor each day so our programs grow with your little one. From feedings to playtime to naptime, each day is full of love and learning in order to help every child grow to be strong, confident and healthy.
We communicate with you on a daily basis, when you drop your child off and when you pick up. In this way, we know exactly what your little one needs, and you know exactly how the day went. We'll let you know if your infant hits any milestones during the day so you can watch for them during your time with your baby. We will work together to nurture your baby. We believe in the saying that it takes a village to raise a child and we want you to rest assured that we are part of your village and will care for your infant with the utmost care and attention.
Positive, loving, and encouraging environments are needed for your children, especially for infants.
Our son started here about two years ago. Since then, we see good improvements on his communication and behavioral skills. Thank you for all support. We look forward to enrolling our 8 month baby in the next couple of years.
Tob Mill
2020-02-19T14:50:20-08:00
Our son started here about two years ago. Since then, we see good improvements on his communication and behavioral skills. Thank you for all support. We look forward to enrolling our 8 month baby in the next couple of years. Tob Mill
https://www.joylandpreschool.org/testimonials/tob-mill/
Very clean and educationally rich environment. Friendly staff. Only Movies are educational films.
Elipses Gold

2020-02-19T14:49:46-08:00
Very clean and educationally rich environment. Friendly staff. Only Movies are educational films. Elipses Gold
https://www.joylandpreschool.org/testimonials/elipses-gold/
Esta muy grande Esta muy. Bonito el. Lugar espero que le guste Alayna Morán.
Natividad Galdamez

2020-02-19T14:49:00-08:00
Esta muy grande Esta muy. Bonito el. Lugar espero que le guste Alayna Morán. Natividad Galdamez
https://www.joylandpreschool.org/testimonials/natividad-galdamez/
Very welcoming environment. My daughter's love it there.
Ranesha Williams

2020-02-22T00:48:41-08:00
Very welcoming environment. My daughter's love it there. Ranesha Williams
https://www.joylandpreschool.org/testimonials/ranesha-williams/
An amazing school where kids learn a lot. The teachers are very sweet and caring. You can not go wrong bringing your kids to this wonderful school.
Anthony Davis
2020-02-22T00:49:55-08:00
An amazing school where kids learn a lot. The teachers are very sweet and caring. You can not go wrong bringing your kids to this wonderful school. Anthony Davis
https://www.joylandpreschool.org/testimonials/anthony-davis/