Ages 18 Months to 24 Months, 6:00am – 6:00pm Monday-Friday
The months that make up the toddler period are full of wonder and sometimes frustration for parents as our stationary babies grown into exploring, expressive little people. Our toddler program provides an active learning environment which allows hands-on experiences with language development, people, art, and music. All learn by doing activities are designed for exploration that children at this age thirst for so they grow into self-confident preschoolers.
Reinforcing Positive Behavior
Learning to manage big emotions, resolve conflict, and problem-solve are examples of the positive behaviors we lovingly reinforce in your child. These developing skills are practiced daily, in their interactions with friends and with support from their patient teacher.
Large Rooms For Play And Daily Exercise
As your toddler grows, you will notice many changes in their physical abilities. Our large, expansive, gross motor play area allows your child to exercise and practice big movements like running, jumping, and climbing every day.

Outstanding Developmental Programs
The learning activities crafted for your toddler are both captivating and challenging. We use the Creative Curriculum and the Building Bridges Curriculum to design theme-based, age-appropriate lesson plans.
Learning Centers That Enhance Creativity
Toddler will engage in creative educational activities involving art, music, and dance to develop their self-expression and imagination. They will enjoy learning through:
Hands-on art exercises using paints and crafts
Movement and dance to explore spatial awareness and their physical abilities
Music and different sounds with a variety of musical instruments
Blocks of different shapes and sizes to gain an understanding of concepts such as weight, size, proportion, and more
Dress-up so that they can fully immerse themselves in mimicking, modeling behavior, and dramatic play
Puzzles that develop the cognitive ability and fine motor skills
Exposure To Vocabulary And Early Literacy
Fostering a love of reading by singing songs to develop speech and fluency further, reciting nursery rhymes, frequent story times, encouraging your child to talk about the story and its characters, providing activities that introduce the letters of the alphabet and the sounds letters make.
Eco-Healthy Certified For Reduced Exposure To Harmful Toxins
Our schools are Eco-Healthy certified, with Green construction features that include individually climate-controlled classrooms and low-VOC materials to maintain indoor air quality. Your child's environment is designed to limit exposure to harmful toxins.
Our Health And Safety Practices
All staff are CPR/First Aid certified and receive approximately 20 hours of health and safety training. This training includes fire drills and childcare emergency drills. Our Team also accepts ongoing local and federal background checks, and all of our entrances are keypad locked to prevent unauthorized access.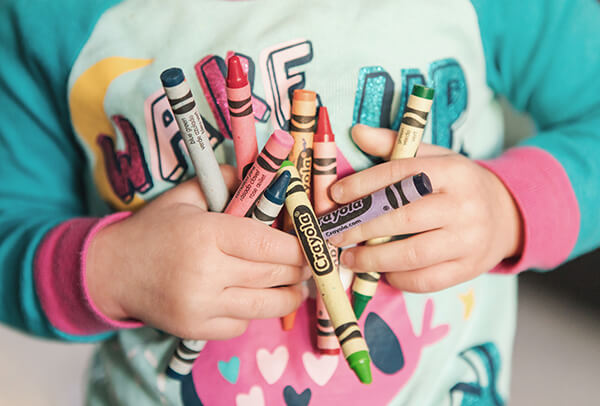 Teaching Your Toddler Love, Empathy, And Care
Children are encouraged to be kind, courteous, and respectful, and teachers provide plenty of emotional support during this ongoing process. Toddlers are only just beginning to become aware of themselves and are learning how to treat each other.
Both Planned And Spontaneous Learning Activities
We strike a healthy balance between both teacher-led, planned activities, and allowing your child's interests to guide their play. This balance means your child makes exciting discoveries while continually taking the next step in their learning.
Wonderful Teachers That Applaud Progress
Our toddler teachers are warm, caring, and responsive to your child's needs. They expertly reinforce a positive self-image and sense of self-worth by applauding your child's progress and motivating their learning.
In-House Visits From Magicians, Musicians And More
Exciting learning opportunities happen several times a year, with in-house visits from a wide variety of guests. Your child will meet magicians, musicians, doctors, firefighters, and on occasion, even animals.
Nutritious Lunches And Snacks As Part Of Our Daily Schedule
Well-balanced meals help your child grow and provide them with the fuel they need to learn and play all day. Lunch and snack times also provide an excellent backdrop for learning social skills like table manners and self-regulation.
Math Skills Such As Sorting And Patterning
Your toddler will learn the concepts of size, quantity, and numbers, as they begin to recognize patterns, and how to sort things into categories. We promise a fun, interactive, and playful introduction to mathematics.
The Cleanest, Most Organized, Welcoming Place
Our classes are kept spotless for your child's health and safety. Sanitizing toys regularly, and a clean and organized space allows your child to relax into their learning environment.
Our son started here about two years ago. Since then, we see good improvements on his communication and behavioral skills. Thank you for all support. We look forward to enrolling our 8 month baby in the next couple of years.
Tob Mill
2020-02-19T14:50:20-08:00
Our son started here about two years ago. Since then, we see good improvements on his communication and behavioral skills. Thank you for all support. We look forward to enrolling our 8 month baby in the next couple of years. Tob Mill
https://www.joylandpreschool.org/testimonials/tob-mill/
Very clean and educationally rich environment. Friendly staff. Only Movies are educational films.
Elipses Gold

2020-02-19T14:49:46-08:00
Very clean and educationally rich environment. Friendly staff. Only Movies are educational films. Elipses Gold
https://www.joylandpreschool.org/testimonials/elipses-gold/
Esta muy grande Esta muy. Bonito el. Lugar espero que le guste Alayna Morán.
Natividad Galdamez

2020-02-19T14:49:00-08:00
Esta muy grande Esta muy. Bonito el. Lugar espero que le guste Alayna Morán. Natividad Galdamez
https://www.joylandpreschool.org/testimonials/natividad-galdamez/
Very welcoming environment. My daughter's love it there.
Ranesha Williams

2020-02-22T00:48:41-08:00
Very welcoming environment. My daughter's love it there. Ranesha Williams
https://www.joylandpreschool.org/testimonials/ranesha-williams/
An amazing school where kids learn a lot. The teachers are very sweet and caring. You can not go wrong bringing your kids to this wonderful school.
Anthony Davis
2020-02-22T00:49:55-08:00
An amazing school where kids learn a lot. The teachers are very sweet and caring. You can not go wrong bringing your kids to this wonderful school. Anthony Davis
https://www.joylandpreschool.org/testimonials/anthony-davis/